Later Life Partnerships
Posted by suzanne at November 12th, 2012
Long lasting partnerships are very special.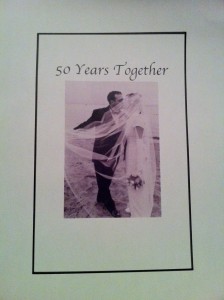 When four in ten Canadian marriages end in divorce and most marriages last an average of 14.5 years, even reaching 30 years of marriage is wonderful. Hence, it isn't everyday that we can celebrate a 50-year wedding anniversary.
We had the pleasure of celebrating this marital milestone with my mother and father in-law. For the family, it was a grand occasion that was remarkable because of the rarity of having 50 years together.
Research has demonstrated the physical and mental health benefits of marriage, including longer life, less depression and greater life satisfaction when compared to single people. The quality of the marriage including commitment and support matter. Every marriage has its ups and downs and only the couples who can see their way through the more difficult times are able to reap the rewards of a long lasting marriage.
Recently, in honour of my in-laws, the entire family spent the weekend together with specially planned family time and events. We had a lot of fun, making more beautiful memories that will last a lifetime. In addition, what was nice was the fact that three generations recognized this marital milestone and everyone was involved, each in their own way, to mark the occasion. My in-laws highly value family. They are amazing people and we are very happy for them. Fifty years is an achievement.
In later life, social relationships take on new meaning. This enables us to better appreciate connecting with others and helps us to deepen special relationships. I am reminded that one of the joys of later life is the ability to have long lived relationships – with a partner, with siblings and friends, with adult children and their partners. Each relationship has different nuances that add joy and magic and make life enjoyable and interesting. In life, it is the relationships that truly matter.

Category: Aging, Health and Wellness, Relationships

Post Tagged with
Aging
,
Health
,
Intergenerational
,
Relationships
,
Well-being