Monthly Archives: June 2013
Posted by suzanne on Jun 28, 2013
Many factors have impacted our image of retirement with the traditional age for retirement influencing expectations in particular. Age sixty-five looms large as a magical age for retirement and seniorhood. Yet, this was not always the case.
Retirement is a social construction. In the past, there was no retirement. There were few elderly people because it was rare for someone to reach old age.
When retirement was first conceived in 1883 by Chancellor Otto Von Bismark of Germany, western society was different. Perspectives were different. Sixty-five years of age was chosen for an individual to receive a pension; however, this was with the expectation that most individuals would never live long enough to actually retire and collect the pension.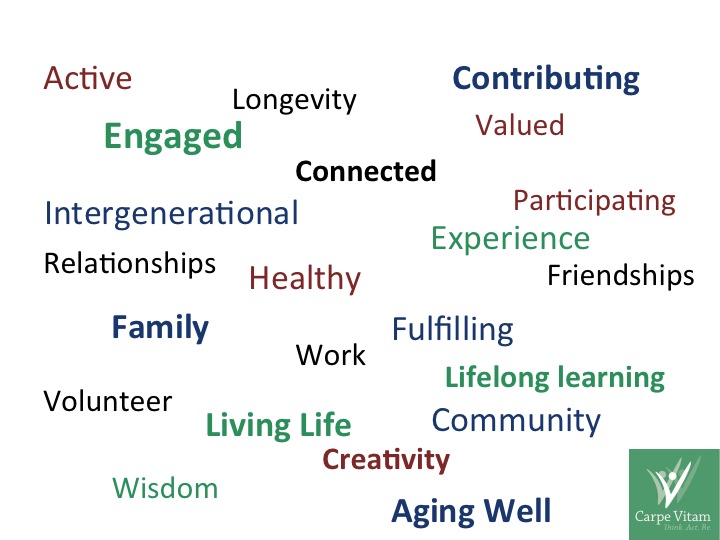 A lot has changed. Older adults are healthier and life expectancy has increased significantly over the past 130 years.
Individuals want to remain active and engaged. It is no longer your grandmother's or your grandfather's retirement.

Category: Active Engagement, Aging, New Retirement

Post Tagged with
Aging
,
Employment
,
Society
Posted by suzanne on Jun 13, 2013
June is important to recognize as Seniors' Month in Canada. This is good reason and an excellent opportunity for communities to celebrate seniors and the role they play in society, to increase awareness of seniors programs, services and policies and to redefine aging and seniorhood.
Despite the aging population in Canada, unfortunately, there have been few innovative and creative celebrations and events in honour of Seniors' Month.
One stood out: I attended some of the Seniors' Month offerings in Peterborough, Ontario. I met some amazing seniors and people who care about seniors. The programs and events in Peterborough were wonderful.
There is a lot happening this month for Peterborough Seniors' Month. Check it out!

Category: Active Engagement, Aging, Aging Population, Health and Wellness

Post Tagged with
Aging
,
Aging Population
,
Community
,
Peterborough
Posted by suzanne on Jun 3, 2013
Human beings are social creatures and social relationships are critical for well-being and optimal development. Individuals interact with family, friends, co-workers and neighbours as well as out in the broader public sphere.
Individuals gain much from these social relationships. There is the love of family – the one born into, and the one chosen, because sometimes close friends feel more like family.
Individuals maintain friendships and family relationships across the life course. Close friendships are important for human development and we are wise to maintain our friendships and hang on to them during the life-journey. It is also worthwhile to support family relationships by cultivating strong family ties.
Relationships can be deeply meaningful in life. That is the beauty of connection. Think about your longest-lived relationships and what they mean to you.
As individuals, we support and encourage each other. Our lives interweave. We influence and inspire each other. Relationships provide great joy in life.
I have been giving much thought to relationships and connection. Coincidently, Dr. James Fowler presented last week at the NICE Knowledge Exchange (the National Initiative for the Care of the Elderly) and offered his thoughts on connection. He recently wrote a book entitled "Connected". Dear readers, you might be interested in this book if you are enjoying my posts on connection and social relationships.

Category: Aging, Health and Wellness, Relationships

Post Tagged with
Relationships