Monthly Archives: January 2013
Posted by suzanne on Jan 17, 2013
As an Academic Entrepreneur, I see the value of transferring knowledge including research and theory into practice. A key aspect of academic entrepreneurship is moving knowledge production to knowledge, resource and technology transfer within organizations and businesses. By achieving this, knowledge and awareness are promoted within the community and the broader society.
Knowledge translation (or knowledge mobilization) means finding innovative ways to share my research and theory and put it into practice. How am I 'spreading the word'? I am connecting with the stakeholders who are invested and involved in my work. Hence, in addition to making conference presentations for academic audiences, I am speaking to organizations and groups who are interested in my research. While I continue to write academic manuscripts, I am working on a guidebook to retirement. Finally, I am making a documentary film that will challenge our attitudes towards aging.
What are the benefits of doing this? I am able to build stronger connections to the community by 'getting out there' and making myself available to businesses, organizations and individuals. My connections to the community help me to focus on and continue to research the topics that matter to people. Plus, by speaking and presenting, there is greater awareness regarding these issues in our society and I am contributing to the social dialogue.
Transferring knowledge into practice is important. I am passionate about my work and believe my next steps include sharing my knowledge and expertise with those who can most benefit from it. This is the direction I need to take my research because I believe my work can make a difference in people's lives.
References
Clouser, M. (2011). The Importance of Academic Entrepreneurs. http://academicentrepreneur.wordpress.com/
Erdös, K. & Varga, A. (2010). The Academic Entrepreneur: Myth or Reality for Increased Regional Growth in Europe? Working Paper IAREG WP1/03g.
Marnett, A. (2010). Professor? It's 'Academic Entrepreneur' to you. http://www.benchfly.com/blog/professor-its-academic-entrepreneur-to-you/
Stuart, T. E. & Ding, W. W. (2006). When Do Scientists Become Entrepreneurs? The Social Structural Antecedents of Commercial Activity in the Academic Life Sciences, AJS,  97–144.

Category: Lifelong Learning, Research

Post Tagged with
Community
,
Learning
,
Relationships
,
Research
,
Society
Posted by suzanne on Jan 6, 2013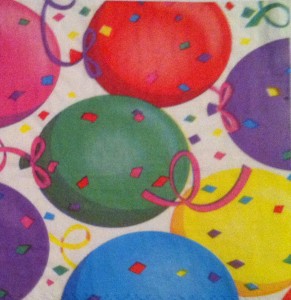 Remember the delight and magic of having a birthday to celebrate? It seems a long time ago for some of us. That ended at age 25, and we don't want to contemplate how long ago that was.
Birthdays are strictly an early-life joy. The aging jokes that come out to greet us on our birthday are tiring and only serve to make us feel older than we feel at heart.
Why is a birthday worth celebrating? How can we get past the dread of having another one? A birthday is our special day. It is a day when those close to us can cherish us and a day to feel good about ourselves – a day for extra fun. Making it our own is the secret to enjoying it.
As we age, how should we recognize and acknowledge the day of our birth?
Here are a few of my suggestions:
If you are in the labour force, take the day off work. I highly recommend this if you can swing it. Then, celebrate your special day in your own unique way. Do something that reflects your personality.
Go to a restaurant with friends and/or family. Good food, good drink and good company – what more do you need? My most special birthdays have been spent having breakfast (sometimes second breakfast), lunch, tea time and dinner with different but equally wonderful friends. Plan the meals into your day in order to match the number of friends you wish to see.
Have quality time with your family. Do something fun together.
If you are able, ask your mom (and/or dad) what time you were born at and anything else she (or he) can remember from your day of birth. These are treasured family memories of your arrival and can make an interesting conversation about how you were welcomed and came into this world.
Have a party but make it your own by making yourself happy. Choose something that you like to do and invite your friends and family to join you.
Take the time to think about and consider the year behind and the year ahead. Like the beginning of the new year, a birthday is a time to reflect and make adjustments and changes. Both of these times of the year are opportunities for reflection, introspection, setting goals, considering past successes and assessing meaning, purpose and significance.
If you are still uncertain about what to do, have an 'un-birthday' party on a day other than your own birthday. Throw a fabulous event and thoroughly enjoy yourself. Try it. It is okay to have immense fun!
Below is a birthday message from a card I recently gave to someone on the occasion of their 50th birthday:
FIFTY
Follow your heart
Invent your future
Find what you've been seeking
Take charge of your destiny
You deserve all the happiness life can bring
This is excellent advice for individuals of all ages to help them enjoy a great year ahead.
An excellent birthday requires an excellent birthday song. My friend Barbara McAfee has written a wonderful new birthday song. Listen to this and feel good on your birthday!
Barbara McAfee – It's Gonna Be Your Birthday
If you have a milestone birthday coming up soon, please share how you are planning to spend it. Happy Birthday to everyone celebrating a birthday!

Category: Active Engagement, Aging, Longevity, Relationships

Post Tagged with
Aging
,
Elderhood
,
Engagement
,
Intergenerational
,
Relationships
,
Well-being