Grandparenting – Part One
Posted by suzanne at November 21st, 2012
"A home filled with grandchildren is a home filled with love." ~ Author unknown.
"Surely, two of the most satisfying experiences in life must be those of being a grandchild or a grandparent." ~ Donald A. Norberg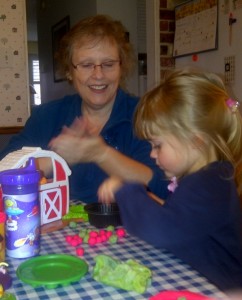 During the second half of life, becoming a grandparent is a great joy. This is one of life's great treasures – seeing your children have children of their own.
Grandparenting the next generation of the family is such a wonderful stage. Children are incredible. They add delight and magic to life. They are fun to have around. They help us to be in the moment and keep us young at heart. Time spent with young children is precious indeed.
It takes time to cultivate a great relationship with grandchildren. This is the opportunity to share your interests, hobbies and knowledge with someone younger who is curious and wants to learn and spend time with you. It is a fantastic feeling to find common interests and enjoy special time together. In fact, grandparents receive all the rewards of a relationship with their grandchildren without all the responsibilities. As Gene Perret says: "Grandchildren are so much fun, we should have had them first".
The good news is that with increases in longevity, grandchildren can expect to have many grandparents in their life and grandparents can expect many years to get to know their grandchildren. This bodes well for forging and maintaining intergenerational bonds. The richness of this intergenerational relationship adds much to quality of life and well-being during the senior years. The grandparent and adult grandchild relationship is particularly interesting and future research needs to examine this. In addition, we are seeing more great-grandparents who are engaged with their great-grandchildren. They have the opportunity to get to know and mentor these young people in their lives.
Grandchildren and great-grandchildren of all ages are special miracles in our lives. Grandparents are elders who can offer much to grandchildren if we take the time to enjoy each other's company.
What better way to give and connect than to bestow your time, energy and love, and share your interests with your grandchildren!
"Grandparents are the footsteps to the future generations." ~ Author unknown

Category: Aging, Health and Wellness, Intergenerational, Relationships

Post Tagged with
Aging
,
Elderhood
,
Engagement
,
Intergenerational
,
Relationships
,
Well-being