Posted by suzanne on Jan 6, 2013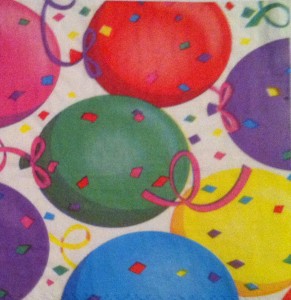 Remember the delight and magic of having a birthday to celebrate? It seems a long time ago for some of us. That ended at age 25, and we don't want to contemplate how long ago that was.
Birthdays are strictly an early-life joy. The aging jokes that come out to greet us on our birthday are tiring and only serve to make us feel older than we feel at heart.
Why is a birthday worth celebrating? How can we get past the dread of having another one? A birthday is our special day. It is a day when those close to us can cherish us and a day to feel good about ourselves – a day for extra fun. Making it our own is the secret to enjoying it.
As we age, how should we recognize and acknowledge the day of our birth?
Here are a few of my suggestions:
If you are in the labour force, take the day off work. I highly recommend this if you can swing it. Then, celebrate your special day in your own unique way. Do something that reflects your personality.
Go to a restaurant with friends and/or family. Good food, good drink and good company – what more do you need? My most special birthdays have been spent having breakfast (sometimes second breakfast), lunch, tea time and dinner with different but equally wonderful friends. Plan the meals into your day in order to match the number of friends you wish to see.
Have quality time with your family. Do something fun together.
If you are able, ask your mom (and/or dad) what time you were born at and anything else she (or he) can remember from your day of birth. These are treasured family memories of your arrival and can make an interesting conversation about how you were welcomed and came into this world.
Have a party but make it your own by making yourself happy. Choose something that you like to do and invite your friends and family to join you.
Take the time to think about and consider the year behind and the year ahead. Like the beginning of the new year, a birthday is a time to reflect and make adjustments and changes. Both of these times of the year are opportunities for reflection, introspection, setting goals, considering past successes and assessing meaning, purpose and significance.
If you are still uncertain about what to do, have an 'un-birthday' party on a day other than your own birthday. Throw a fabulous event and thoroughly enjoy yourself. Try it. It is okay to have immense fun!
Below is a birthday message from a card I recently gave to someone on the occasion of their 50th birthday:
FIFTY
Follow your heart
Invent your future
Find what you've been seeking
Take charge of your destiny
You deserve all the happiness life can bring
This is excellent advice for individuals of all ages to help them enjoy a great year ahead.
An excellent birthday requires an excellent birthday song. My friend Barbara McAfee has written a wonderful new birthday song. Listen to this and feel good on your birthday!
Barbara McAfee – It's Gonna Be Your Birthday
If you have a milestone birthday coming up soon, please share how you are planning to spend it. Happy Birthday to everyone celebrating a birthday!

Category: Active Engagement, Aging, Longevity, Relationships

Post Tagged with
Aging
,
Elderhood
,
Engagement
,
Intergenerational
,
Relationships
,
Well-being
Posted by suzanne on Dec 11, 2012
When we look around, we are surrounded by elders – those actually in our lives who are close to us and those who we encounter.
Growing up, I was often among seniors and elders so that I felt comfortable with them, just sharing and chatting, listening to stories and getting their advice and input. I am so blessed to have them in my life.
This week I have been deeply moved by two elders. I am going to call them both elders because they are in their late 70's and early 80's. In addition, they are at a time in life when they influence others by bestowing wisdom, mentoring younger generations and leaving a legacy. They are of an age that deserves the respect of a word like 'elder'. It conveys a different image than that portrayed by 'senior'.
The first elder is a family friend who I re-connected with after not having seen him for many years. Recently, I have been visiting with him – having coffee or dinner and chatting on the phone. He is very caring toward everyone and he loves to help others. His name is Bob and I was thrilled when his new book came out. It was wonderful to attend his book launch with my young daughter. Unfortunately, during the last few weeks he has not been well and it is very difficult to see him suffering from ill health. His days consists of a lot of rest with his wife driving him to medical appointments. Through it all, every time I call, he is his bubbly self – this despite the pain, the frustration and the uncertainty. He is always gracious, caring and engaged. It is a wonder to observe how ill health hasn't curtailed his zest for life, his vitality and his interest in everybody. He is truly amazing. This is part of what it means to be an elder who is aging successfully and gracefully.
The second elder is Leonard Cohen whose show I just saw in Toronto. He joked about aging throughout his performance. On his new album, many of his songs contain lyrics that convey images of aging "…my friends are gone and my hair is grey. I ache in the places where I used to play…" He talks about missing cigarettes, wondering if he'll reach age 80. He muses that perhaps he will not make it back to Toronto in 2 years to do another show – all this while doing jigs across the stage during a more than three hour show. He seemed on a mission to continue to be vital and vibrant. He amazed us all; however, I was disappointed that he didn't tell the audience that he gave up smoking for his health – he obviously still craves cigarettes and he isn't the only one to struggle with this addiction. In using humour and beautiful lyrics to discuss growing older, he connects well with his audience – we are all aging too (even those of us who don't have the grey hair). All of this tells me that he is an elder as well – someone who is so caring and gracious, he knows all the support staff by name as he thanks them for their assistance; someone who can influence other people with the words he choses; someone granting wisdom and leaving a legacy.
The role of elder is not to be feared or dreaded. If we are blessed with a long, rich life, we will enter this stage too. As we age, we lose those who are dear to us in the generation immediately above us, so that we are the ones who are left to fill the role of elder. Eventually, we will look up and realize that we have become the elder who is asked about having all the answers, the one who is responsible for mentoring, guiding, informing, advising and inspiring the next generation.
What kind of elder are you becoming? I'd enjoy hearing your thoughts and comments.

Category: Active Engagement, Aging, Intergenerational, Longevity, Relationships

Post Tagged with
Aging
,
Elderhood
,
Engagement
,
Health
,
Intergenerational
,
Relationships
Posted by suzanne on Oct 1, 2012
International Day of Older Persons is October 1, 2012.
Today, we recognize the contributions of older individuals – to society and community, within corporations and organizations, to family, friends and neighbours, and to others around them.
Older individuals have much to contribute. They want to be active participants in society. We need to encourage their participation and continue our work to improve their health and well-being. We need to provide a supportive environment and develop more effective ways of helping them find more fulfilling and meaningful later life activities.
Take a look around you. Celebrate International Day of Older Persons by acknowledging older adults and all the work that they do.

Category: Active Engagement, Aging

Post Tagged with
Aging
,
Health
,
Well-being