Posted by suzanne on Jan 26, 2016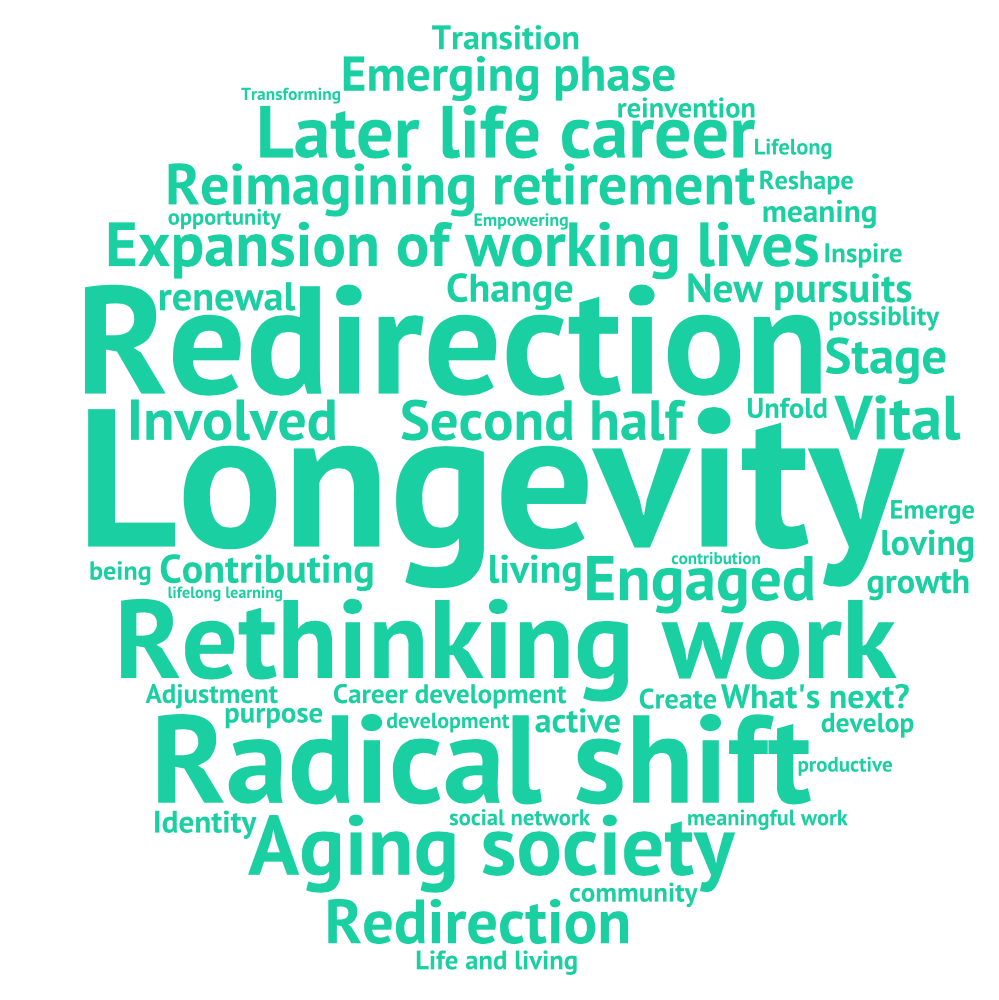 More and more people are pursuing a longer working life. Redirection speaks to this rethinking of work and income options for later life.
I coined the term redirection to refer to the new stage of career as individuals transfer their skills, experience and knowledge in a new direction. By pursuing a new occupation, individuals are able to use some of their strengths while learning something new. This provides revitalization.
Attention Northumberland County Residents, please click here: Magnet Redirection Project.
The Redirection Project examines how Canadians in their 50s, 60s and beyond are turning away from traditional notions of 'retirement' to seek new employment. There is a radical change taking place with an expansion of our working lives and re-imagining of retirement as the baby boomers enter what has traditionally been viewed as their retirement years.
The Redirection Project is a CERIC-funded national research initiative. The project consists of a national survey (see below), success stories to help inspire others and a documentary film (see the story contest).
The research examines partipants' experiences with later life work and career development as they shift gears and pursue new types of work.
If you are age 50 or over and seeking new employment (or have already found your new career), you are invited to participate in important research about this topic in order to help others in similar circumstances.
To participate, please click on one of the following links.
Redirected and working in a career
Seeking redirection and looking for a new occupation
The project has received great coverage in the Globe and Mail.
Recent York University YFile press: September 2015 and January 2016 articles.

Category: Active Engagement, Aging, Aging Workforce, Career, Economic Issues, Lifelong Learning, Longevity, New Retirement, Research, The Redirection Project, Work
Posted by suzanne on Apr 9, 2015
Mature individuals have a great deal to offer. Leveraging their experience, abilities and wisdom is critical in our aging society.
In Western society, there is a tendency to overlook mature and experienced workers. They do not receive the respect accorded to them in the past, or in other countries.
Recently, the New York Times published a lovely compendium of experienced masters - individuals who are at the top of their craft. These inspiring people, of mature age, continue to be highly productive older adults who are passionate about the work they do.
Over and above the meaning and purpose work offers for these individuals, their stories convey several key messages. First, their stories highlight their openness to learning and being present in the moment. These are qualities that need to be cultivated. Also evident is the importance of process and the honing of great works over time. Therefore, patience, dedication and self awareness are critical to becoming a master and developing seminal and socially meaningful work. In addition, they are very inspiring. Finally, I wonder if their age matters because it is their talent and their craft that stand out to me.
In any case, masters is a fitting description for them.
LEWIS H. LAPHAM (2014). Older masters at the top of their game, New York Times Magazine.

Category: Active Engagement, Aging Workforce, Career, Lifelong Learning, Work

Post Tagged with
Aging Labour Force
,
Experienced Workers
,
Later Life Work
,
Mature Workers
,
Mature Workforce
,
Meaningful-Later-Life-Work